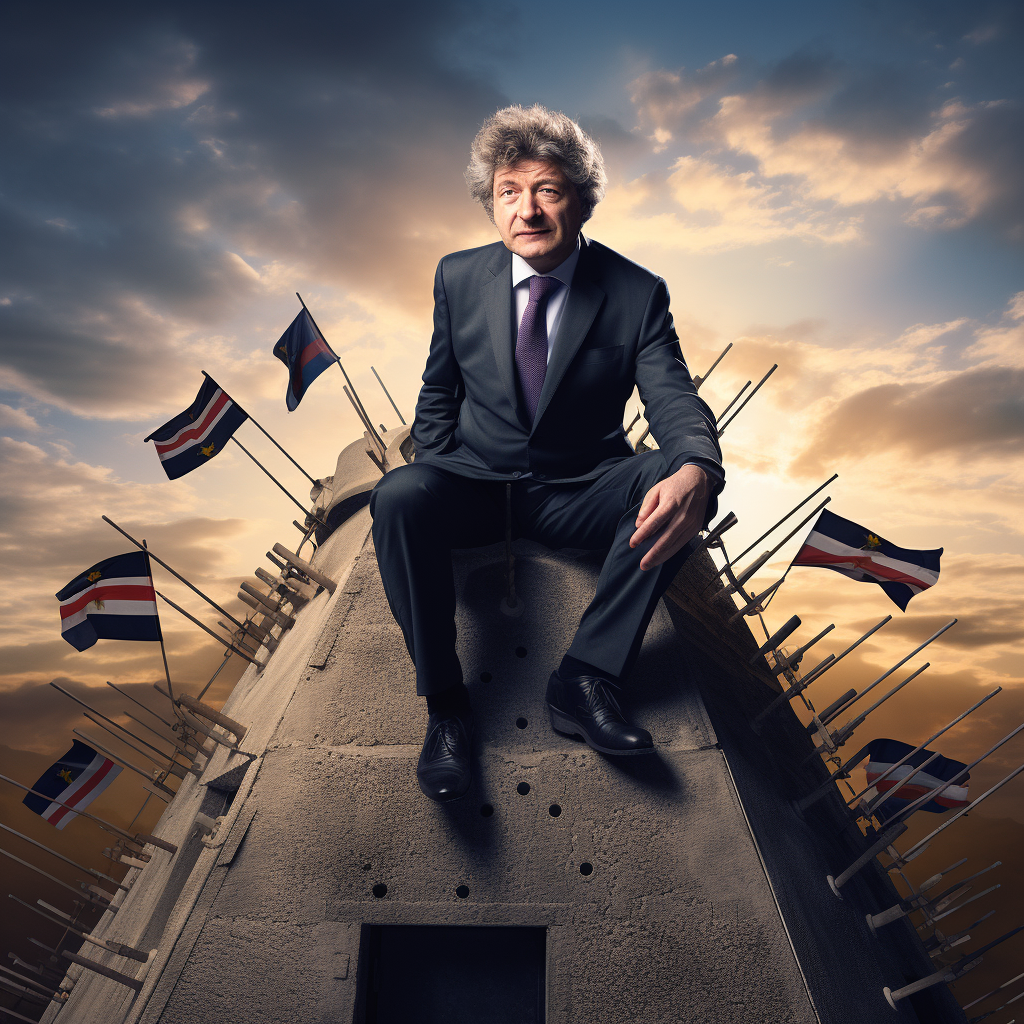 Last week, a bespeckled white-haired Frenchman strolled the streets of San Francisco in between high-profile meetings and uncomfortable photo ops.
With his horn-rimmed round glasses, wavy hair, and tailored suit, as well as a full entourage of slickly-dressed Europeans, the European Union Commissioner for the Internal Market, Thierry Breton, made his rounds in Silicon Valley.
Breton's powerful role within the EU's executive body is to oversee trade in Europe's single market system, comprising nearly 500 million consumers and citizens. It makes him tremendously powerful. What other European politician could secure meetings with Elon Musk, Mark Zuckerberg, and Sam Altman in just one day?
While the mandate for Breton's role is rather large — everything from broadband to online platforms, and climate change — his goal in San Francisco was to meet with US tech titans and CEOs to prepare them for the imminent enforcement of the Digital Services Act (DSA), an all-encompassing EU law intended to create a "safer digital space" for Europeans.
The law will come into force at the end of August and lay dozens of new obligations on internet companies that wish to serve users in the European bloc.
The DSA could best be described as Europe's regulatory model for Big Tech and the Internet. The only problem? Only a sliver of the companies the Digital Services Act targets for restrictions or regulations are even based in the EU.
Out of the 17 companies designated "Very Large Online Platforms" by the law — meaning they will be held to the highest burden of regulation and rules — only one is based somewhere in Europe: Zalando, an online fashion retailer.
The rest are from…you guessed it…the United States. This includes firms such as Meta, Twitter, Google, Snapchat, and Amazon, but also Chinese firms such as TikTok and Alibaba.
The DSA enforces a litany of expansive restrictions and rules that go far beyond any US regulation: severe limits on targeted advertising, more diligent content moderation to remove what the EU deems "illegal" content, protocols for weeding out "disinformation", and more.
Considering how much Big Tech has been forced to censor users to appease regulators in the free speech haven of the US, it will only get worse overseas.
While the principal aims of the DSA are well-intended — safeguarding consumer privacy and protecting minors — how these provisions are enforced or interpreted should concern all of us who believe in an open web.
To begin, there is platform liability attached to both disinformation and illegal content. In the US, we have Section 230, which exempts platforms from being liable for users' posts. In Europe, every major online platform would be forced to instantly police its users or face severe penalties while still being weighed down by impossible questions.
Do platforms decide what is disinformation or will governments provide examples? What if a government gets it wrong, like in the early days of COVID? Or has more malicious intent like in unfree surveillance societies?
With no First Amendment-like protections for speech on the European continent, we know the censorious demands of European officials will soon swallow entire budgets of tech firms in order to comply, money that would otherwise be used to deliver value for users. Will it all be worth it?
We know that each platform has the ability to moderate or censor as they see fit, but this is usually done by internal policies and codes that users voluntarily accept, not reaction to a policeman holding the regulatory baton. Rather than focusing on restricting and limiting American tech firms, the Europeans should be doing everything possible to change their own rules in order to foster the innovation that Silicon Valley has been able to provide for decades.
The mindset promulgated from Brussels is "regulate first, innovate later," in hopes that the talent and ideas will spring from a stable, regulated environment. If that were the case, we'd have dozens of European tech unicorns vying for global dominance. Instead, there are barely any. Or they've been bought up by an American company.
Europe has chosen to forgo becoming the world's test market for innovative products and services, opting instead to be the ultimate playground of bureaucratic and legal restrictions. While some American politicians and regulators may look over with a gleeful eye, it is clear that consumers and creators are getting left behind on the Old Continent, and American users will soon be in the crosshairs.
Yaël Ossowski is deputy director of the Consumer Choice Center.
Published in the Orange County Register (archive) and syndicated in the Pasadena Star-News (archive), Los Angeles Daily News (archive), San Bernardino Sun, Redlands Daily Facts (archive), San Gabriel Valley Tribune, Press-Telegram, Inland Valley Daily Bulletin, the Daily Breeze (archive),